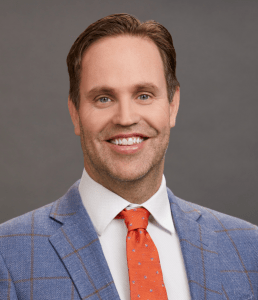 Mike Edde is a Vice President of Estimating for The Dutra Group and is responsible for overseeing new project procurement, cost estimates and proposals for the Company.
Since hiring on with the firm in 2002, Mike has worked for Dutra his entire professional career.  After earning his Bachelor of Science Degree in Civil and Environmental Engineering from the University of California at Berkeley, Mike began his career with Dutra as an Office Engineer in the Estimating Department. 
He then transitioned to the field to become a Project Engineer on a variety of marine construction and dredging projects in California for the next seven years.  Mike was promoted to Project Manager in 2010 working on The San Francisco Harbor West Marina Renovation project and then the SF-Oakland Bay Bridge Self-Anchored Suspension Span Precast Concrete Fender System for the T-1 Tower project which was completed in the spring of 2014.  Mike has been involved in a wide range of marine construction and dredging projects including piers, wharves, docks, turning basins, marinas, seawalls, marine fenders, levees, breakwaters and various maintenance and environmental dredging projects.
Mike was promoted to Chief Estimator in 2014 and has been leading the Estimating Department ever since.  He became a Vice President for Dutra in 2021 and is involved in strategic planning for the Company's future with the other Dutra VPs.
Mike obtained his Professional Civil Engineering License in 2006 and is currently registered in the State of California.  Mike earned his MBA from the Haas School of Business at UC Berkeley in 2014.  Mike is a Marin County native, currently resides close to Dutra's corporate office, and is married with two children.