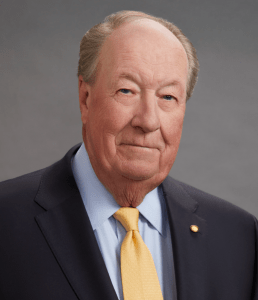 Lynn E. Barr is the former President and CEO of Underground Construction Co., Inc., of Benicia, California. Underground is a more than eight-decade-old Utility and Heavy Construction contracting organization active throughout the United States. It pursues projects in the Communications, Industrial, Petroleum, Aircraft Fueling, Rapid Transit and District Energy industries.
Mr. Barr served with Underground and its associated companies for 36 years, starting as a Project Engineer on BART projects in San Francisco and Oakland.
Following Underground's merger with Quanta Services (NYSE: PWR), Quanta appointed Mr. Barr Regional Vice President, responsible for eight California-based Quanta companies.
In addition to serving as a Director of The Dutra Group, Mr. Barr currently serves on the Board of Advisors and the Compensation Committee for Architectural Glass & Aluminum of Livermore, California; as a Director and a member of the Compensation Advisory Group of Bigge Crane and Rigging Co. of Oakland, California; as a Director of Foundation Constructors, Inc., of Oakley, California; as a Director of Traylor Bros., Inc., of Evansville, Indiana; and as a Director of USA Environment LP of Houston, Texas. 
Mr. Barr also served two terms as the Chair of The Beavers Charitable Trust, whose endowment funds grants and scholarships for university students in Civil Engineering and Construction Management.
He is a 1969 graduate of Heald Engineering College, San Francisco, a Registered Civil Engineer in California, Indiana and Colorado, and a California-licensed General Engineering, General Building and Fire Protection Contractor.
Mr. Barr has been actively involved in community and industry groups throughout his career, having also served on Boards of Directors and in various other capacities with the Boy Scouts of America, the Associated General Contractors of California, the Associated Builders and Constructors, The International Society of Trenchless Technology, The National Center for Construction Education, and others. He is a proud member of The Moles, an organization of professionals in tunnel, subway, sewer, foundation, marine and other heavy construction projects.