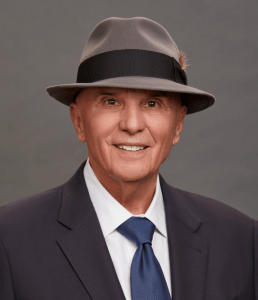 Bill Dutra, Executive Chairman of The Dutra Group, is the fourth generation of his family engaged in the dredging business. He founded the Dutra Construction Company, forerunner of The Dutra Group, in 1972.
Bill gained his knowledge of the business from the deck up. It began in 1961 when he went to work as a deckhand, then rose to tugboat captain and, ultimately, dredge captain. In 1965, he joined the National Guard, serving on active duty for two years. Inspired by a mentor, Claire Lopez of the Leslie Salt Company, as well as by his fellow servicemen, Bill sought a college education. Married and with two young children at the time, Bill worked hard to graduate early, earning his bachelor's degree from the Oregon Institute of Technology in three and a half years. His areas of concentration were civil soils and metallurgical engineering as well as business management. He then ventured out on his own and returned to California, where he obtained a contractor's license.
Dutra Construction's first projects involved reclaiming land in California's Central Valley for large farming companies. In June 1972, a major levee in the Sacramento Delta broke at Isleton, flooding Brannan/Andrus Island, a major highway, hundreds of homes and 12,000 acres of farmland. With a contract to repair the levee and pump out the flooded ground, Dutra was able to obtain several large pumps from farming giant J. G. Boswell. Although the task was estimated to require 18 months, Dutra dewatered the island in one-fifth the time, 110 days. That success, which restored water flows to the south and allowed for planting and harvesting a corn crop on the island, earned the Company contracts with several reclamation districts for levee maintenance and later for the reclamation of 10 flooded Delta islands.
Ready access to materials was a key ingredient in Dutra's ability to conduct both emergency and routine levee work as well as harbor maintenance and repair. To achieve that access, the Company arranged a rock distributorship with Basalt Rock Company, which operated the quarry in San Rafael. In 1986, Dillingham Construction, Basalt's owner, was looking to sell three of its quarries, including the one in San Rafael. In that context, Dutra acquired the San Rafael Rock Quarry, the only Northern California quarry with direct waterside access. Also in 1986, Dutra strengthened its derrick barge and dredging capabilities with the purchase of Smith Rice Company of Alameda.
Dutra conducted a highly visible emergency response in 1989 when the Loma Prieta Earthquake brought down a section of the San Francisco-Oakland Bay Bridge roadway. Dutra removed the damaged section and replaced it in just 30 days. The Company's fast action restored the vital transportation link in a quarter of the time that Caltrans engineers had estimated.
In 1991, Dutra took on a key element of Boston's "Big Dig" project. Using its largest dredge, Dutra drilled, blasted and excavated a three-quarter-mile, 110-foot deep trench across Boston Harbor for the Ted Williams Tunnel connecting downtown Boston with Logan Airport.
Along with his partner Harry Stewart, Bill was actively involved in the acquisition of the dredge Stuyvesant in 2012, one of two hopper dredges operating on the West Coast as well as elsewhere around the United States. Dutra's accomplishments with the Stuyvesant include major projects on the West, Gulf and East coasts.
As Executive Chairman, one of Bill's key roles includes mentoring people. Among the many people he has mentored over the course of his career is Harry Stewart, who joined Dutra in 1983 and who recently replaced Bill as CEO.
Bill is proud of his three daughters, Denise, Aimi and Patty.  Denise works with her husband, Sean, at Maloney Construction, Inc. Aimi is the Public Relations Manager at The Dutra Group and Patty is Vice President of Human Resources. Patty also serves as President of the Dutra Museum Foundation, which is responsible for the Dutra Museum of Dredging as well as funding college scholarships. Bill has two stepdaughters who are also involved with The Dutra Group – Joy Bender is General Counsel for the Company, and Christine Soprano develops and maintains the Company's website.